Colonel Titus Williams, born Long Island, 22 November, 1790, son of Captain Jonathan Williams, of the British Army. Received Ensign's Commission in the 2nd Regiment Norfolk Militia. Volunteered on 27 June 1812, the day of the war's outbreak, appointed Lieut., in Left Flank Company. Commanded a detachment of Norfolk men at Detroit. Became Captain and Adjutant of the 2nd Regiment Norfolk Militia at Detroit some time later. Was afterwards captured by Americans on Niagara River, sentenced to be executed, but was liberated in May, 1814. Immediately appointed Adjutant of the 4th Regiments Norfolk Militia and was at Lundy's Lane. Then placed in command of the 103rd Regulars at Dover and Ryerse.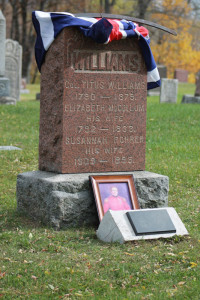 After the war was appointed Major and then Colonel and retired many years after. He was 86 years of age in 1877. Lord Elgin sent him the following letter:
"I have much pleasure in availing myself of the opportunity of expressing to Colonel Titus Williams the high sense I entertain of his services and he is hereby permitted to retire retaining his rank."
Lieutenant Titus Williams of the 2nd Norfolk, a son of the veteran Captain Jonathan Williams of Woodhouse, has been mentioned as one of those who was of Brock's forces at Detroit in 1812. He accompanied Hull's army, after they became prisoners of war, from Detroit to Fort George. He subsequently served with distinction on the Grand River and Niagara frontier and surprised and took as prisoners thirty Americans under Captain King between Fort Erie and Chippewa, but on June 17th 1813, when endeavouring to secure some buried arms and ammunitions at Sugar Loaf Hill, he with nine privates fell into the hands of the enemy. He suffered many vicissitudes while a prisoner on the other side of the line. He is said to have resented the treatment of himself and other prisoners by seizing an axe and chopping down a Liberty pole, which did not increase his chances of liberty, which nevertheless he subsequently regained, though not before he and other prisoners had been threatened with death to the hands of the American in reprisal for an alleged grievance of theirs against the British. Williams subsequently served as adjutant at Turkey Point and rose to the rank of lieutenant colonel.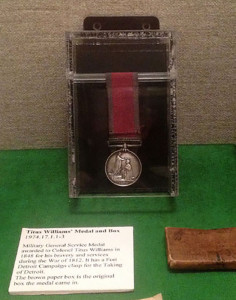 In the book, Soldiers of the King, Upper Canadian Militia 1812-15, Wm. Gray records on page 283 that Titus Williams, 2nd Norfolk, Lieutenant was taken prisoner by the enemy on May 25, 1813 and removed to the US and was returned July 9, 1814.
Captain Williams was liberated on May 18, 1814 and arrived home on July 5. He was appointed Adjutant of the 4th Regiment Norfolk Militia and remained with them until after the Battle of Lundy's Lane. He was next promoted to a commanding position in the forces of the regular stationed at Norfolk. When his regiment was ordered home he was offered a position of Col. which he declined. During the remaining months of the war he held a position with the Norfolk militia as a Major and afterward became Col until incapacitated by the infirmities of old age."
In the Canadian Veterans of the War of 1812 edited by Eric Jonasson, Wheatfield Press Winnipeg, Manitoba 1981, Titus Williams age 84 Pt Rowan Norfolk Lieutenant Norfolk $20.
In 1875 the Canadian Parliament voted to distribute the sum of $50,000 in $20 increments to all Canadian militia veterans from the War of 1812 who were still alive and residing in Canada.
Col Titus Williams was married twice and settled on Lot 18 on the Walsingham lake shore. He had 16 children.
Sources
The Men of Norfolk — for the 175th Anniversary of the Burning of Dover Mills
The Talbot Regime, Chapter XII
Veteran Summary
Titus Williams
Colonel, 2nd Regiment Norfolk Militia
Place of Birth
Long Island, ON, British North America
Place of Death
Walsingham Township, Norfolk County, ON, CAN
Died on: 06 MAY 1879
Reason: Old Age
Location of Grave
Newkirk Cemetery, 4137 Lakeshore Road, St. Williams
St. Williams, ON, CAN
Latitude: 42.663191N Longitude: -80.429348