Richard Smith joined the New Brunswick Regiment of Fencible Infantry on 18 June 1805, which became New Brunswick's 104th Regiment of Foot in 1810. When he joined he was under the minimum age of 15 to join as a Private, he did it anyway, instead of enlisting as a Boy (the category for people enlisting underage). Being a big lad he was assigned to the Grenadier Company (the biggest and strongest men of the regiment). Only men over 1.83 m (6′-0″) tall could be in this company and he was 1.88 m (6′-5″) tall.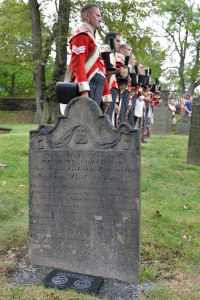 His service was exemplary and he was promoted to Corporal in February 1811 and then to Sergeant in February 1812. Sgt Smith marched with his company on the epic 1,200 kilometre 1813 winter trek from Fredericton, through New Brunswick to Quebec and Kingston, Upper Canada, from February to April 1813 then on to the Niagara corridor. He fought in all the battles in which his regiment took part in 1813 and 1814. Sgt Smith was appointed Regimental Colour Sergeant on November 25, 1813.
In the disastrous attack on the Americans at Fort Erie on 15 August 1814, Sgt Smith was selected by his regimental commander, Lieutenant Colonel William Drummond, to take charge of the forlorn hope whose duty it was to scale the walls of the Fort and open the entrance from the inside. Though he and his party succeeded in this, Smith himself suffered five wounds, one of which resulted in the loss of his right arm. Drummond promised that if the forlorn hope succeeded he would recommend Smith to the Prince Regent for a commission. Colonel Drummond was killed in action at that battle and could not fulfill his promise.
Smith petitioned to Lieutenant General Sir Gordon Drummond for the promised commission; the petition was signed by the petitioner with an X. In a communication dated Kingston, UC, November 16, 1814, Smith's Captain, Richard Leonard, wrote Major Thomas Hunter, then acting commander of the regiment, as follows:
"I beg leave to forward to you the enclosed petition from Serg't Smith,of my company (No  9) ,and I have great pleasure in bearing testimony to his merit. His general conduct as a non- commissioned officer since his first appointment has been such as always to meet my approbation, particularly the respect he at all times commanded from the men I have great satisfaction in stating that I was, in several instances witness to his gallantry in action during the last two campaigns on the Niagara Frontier — particularly the last  — when he was chosen by the late Lt Col Drummond to lead the forlorn hope, in the attack on the enemy's principal work at Fort Erie. On that occasion I was directed by L't Colonel Drummond to notify Serg't Smith that, if he acquitted himself with credit on that service, his intention was to recommend him for a commission."
On September 11, 1815 Smith's name was noted at the Horse Guards, London (now known as the War Office), "for an ensigncy in a list of candidates." Owing to the prospective and gradual reduction of the British army Smith's commission was never granted.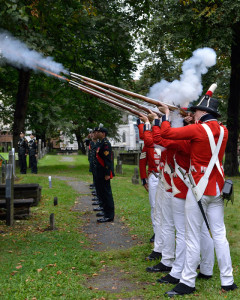 After the war ended he was discharged in Montreal on 24 May 1817 "in consequence of Five Wounds, two in the Head, one through the Thigh, and two in the Right Arm." Those wounds were so bad his right arm was amputated close to the shoulder. He was then sent to the Depot in Quebec City for transition into civilian life.
His exemplary conduct throughout the War was the means of his being chosen and appointed a Magistrate for the County of Northumberland Province of New Brunswick.
He died on September 21, 1819 at age 29 years in Halifax Nova Scotia, and is buried in the Old Burying Ground in Halifax.
Richard Smith married Ellen (?) prior to his death in 1819.  They had at least two children, Elizabeth born in 1817 m 1834 and Georgianna Mary who was presumably born later as she did not marry until 1836.  His wife, Ellen, remarried to Samuel Wigmore in 1834.
Richard Smith is frequently referred to as Esquire (Esq.) which denotes an element of social prominence, perhaps related to his position of Magistrate.
Inscription on Gravestone Old Burying Ground   Halifax, Nova Scotia
Sacred to the Memory of
RICHARD SMITH Esqr
who departed this Life on the
21 Sept 1819  Aged 29 Years
This young Man served nearly the whole
of the last American War upon the Niagara
frontier in his Majesty's 104 Regiment
In an attack upon Fort Erie this brave man
lead the forlorn hope during the
performance of this arduous & dangerous
duty he received five wounds one of which
occasioned the loss of his right arm
The exemplary conduct of the deceased was
the means of his being chosen & appointed
as Magistrate for the county of
Northumberland Province of
New Brunswick
Sources
Provincial Archives of New Brunswick: MC 300 MS 15 Major G. Harold Markham fonds
Pay list of that portion of the 104th Regiment which marched from Fredericton to Kingston in the winter of 1813.
Cruikshank, Lieut-Colonel Ernest, The Siege of Fort Erie  August 1st – September 23rd 1814
Lundy's Lane Historical Society, Niagara Falls Ontario, Welland Printed at the Tribune Office 1905.  p.16  p.25
St Paul's Church Halifax, Nova Scotia  Burial Records September 22, 1819
Old Burying Ground Foundation Information on Monuments Listed Alphabetically by Name of Deceased  pp. 167,168     May 1989  City of Halifax  Development and Planning Department
St John River Society Website Marching into History Sergeant Richard Smith  (by W.E. Gary Campbell)
Veteran Summary
Richard Smith
Sergeant, 104th Regiment of Foot
Place of Birth
Kings County, NB, CAN
Place of Death
Halifax, NS, CAN
Died on: 21 SEP 1819
Reason: Complications resulting from wounds received in the attack on Fort Erie on August 15, 1814
Location of Grave
Old Burying Ground, Barrington Street
Halifax, NS, CAN
Latitude: 44.643908N Longitude: -63.572811