Peter Maybee was born in Bergen County NJ in 1775 to Loyalist Capt. Abraham Maybee UE and his first wife Gerritje Hogenkamp.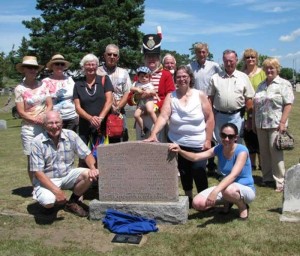 The Maybees came to Adolphustown, Ontario in 1784. About 1797 Peter m Catherine Huff and prior to 1812 they were residing in Murray Township, Northumberland County, Ontario. He was the only Peter of the right age and place to be in the 1st Regiment Northumberland County Militia commanded by Lieutenant Colonel Peters.
His eldest son Abram P also served and they appear together in one Muster later in the War. Peter died c1830 through illness or accident. The details are not known.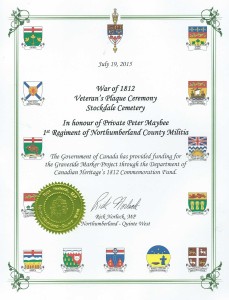 [Graveside Team ed — Date of death is approximate as only year was known; Cemetery GPS coordinates approximate as no definitive location given.]
Veteran Summary
Peter Maybee
Private, 1st Regiment Northumberland Militia
Place of Birth
Bergen County, NJ, USA
Place of Death
Murray Township, Northumberland County, ON, CAN
Died on: 01 JAN 1830
Reason: Accident or illness. Died c1830 at the age of about 55.
Location of Grave
Stockdale Cemetery Lot 3 Con 6, Will Johnson Rd.
Stockdale, Quinte West, ON, CAN
Latitude: 44.200209N Longitude: -77.629087