Robert Ross (b1776) joined the 25th Regiment of Foot as an ensign in 1789 and served with distinction with the 20th (East Devonshire) Regiment throughout the Napoleonic Wars in Egypt, Italy, Portugal, Spain and France. He earned four gold battle medals for his illustrious role in four battles against the French — Maida (in Italy), Corunna, Vittoria and the Pyrenees (all in Spain). These four honours earned him the Army Gold Cross. He was promoted Major General at the Battle of Vittoria.
With the conclusion of the Napoleonic campaign in the spring of 1814 more British troops became available to fight in North America. Major General Ross sailed to North America in the summer of 1814 to command the British army on the east coast of the United States, opening a second front to relieve the pressure on the Niagara Peninsula. He personally led the troops ashore and marched through Maryland to attack the Americans at Bladensburg on 24 August 1814. From Bladensburg, Ross' troops captured Washington D.C. He burned the public buildings of the city, including the White House, in retaliation for the destructive American raids into Canada, most notably their burning of York (Toronto).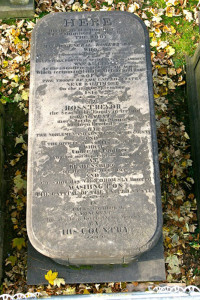 From Washington Ross marched on Baltimore and was killed approaching the city by a sniper's bullet on 12 September 1814.
His body was brought to Halifax where it was buried with full military honours in the Old Burying Ground.
In the two photos at the head of this document, Major General Ross' tomb is the dominant one. The inscription reads:
HERE
On the 29th of September 1814
Was committed to the Earth
THE BODY
OF
MAJOR GENERAL ROBERT ROSS
WHO
After having distinguished himself in all ranks as an officer
IN
EGYPT, ITALY, PORTUGAL, SPAIN, FRANCE & AMERICA
WAS KILLED
At the commencement of an Action
Which terminated in the defeat and Rout
OF
THE TROOPS OF THE UNITED STATES NEAR BALTIMORE
On the 12th of September 1814
AT
ROSSTREVOR
The seat of his Family in Ireland
A MONUMENT
More Worthy of his Memory
has been erected
BY
THE NOBLEMEN AND GENTLEMEN OF HIS COUNTY
AND
THE OFFICERS OF A GRATEFUL ARMY
WHICH
Under his Conduct
Attacked and dispersed the Americans
AT
BLADENSBURG
on the 24th of August 1814
AND
the same day VICTORIOUSLY Entered
WASHINGTON
THE CAPITAL OF THE UNITED STATES
—
IN
ST. PAUL'S CATHEDRAL
A MONUMENT
Has also been Erected to His Memory
BY
HIS COUNTRY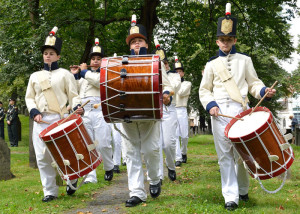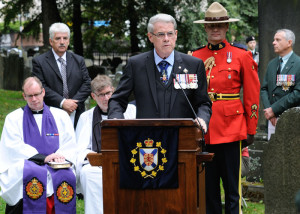 Veteran Summary
Robert Ross
Major General, Commander British Forces, East Coast US
Place of Birth
Rostrevor, County Down, Ireland
Place of Death
Baltimore, MD, USA
Died on: 12 SEP 1814
Reason: Killed by a sniper's bullet near Baltimore, Maryland.
Location of Grave
Old Burying Ground, Barrington Street
Halifax, NS, CAN
Latitude: 44.644405N Longitude: -63.572543