Isaac Corman was b 1777 in Frederick, Maryland, USA to Hans Johannes Jerrick Korman (Kornmann), also known as George Corman, and Sarah Harrison, who m 1763 in Frederick, Maryland.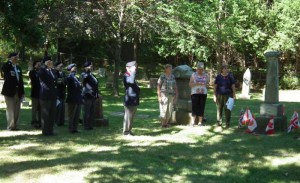 They lived in Maryland on a 700 acre tract until the Revolution. They moved to British Kentucky until the hostilities reached there, then they moved onto Pennsylvania and eventually to Canada in 1792.
Isaac's father, George Corman, petitioned for land and was given a land grant for Lots 21 & 22, Conc 3, Saltfleet Twp., Wentworth County, Upper Canada. (Source: LAC RG1, L3, Vol.283, L Bundle 1, Petition 5 film C-2124)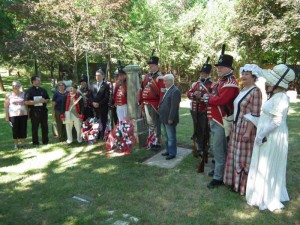 Isaac's sister, Catherine Corman, m John Yeager Sr. (born Johannes Jager).
Isaac and his brother-in-law John Yeager both served in Captain James Durand Company of the 5th Regiment Lincoln Militia during the War of 1812. During the Battle of Stoney Creek, the attack left the Battlefield strewn with American dead and wounded. Isaac Corman, his brother-in-laws, Billy Green, and John Yeager were among the settlers who cleared the battlefield and buried the dead. (Sources: The Yeager Family Album, R Robert Mutrie; Annals of the Forty, R Janet Powell; Billy Green the Scout, Mabel Thompson; Ontario History,1952; Battlefield House & Museum)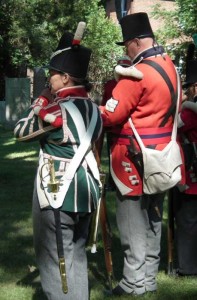 Another sister, Hannah Corman, m James Lee, a British Soldier who served under General Cornwallis during the American Revolution. James and Hannah immigrated to Upper Canada and settled on lots 21 & 22, Conc 4 in Saltfleet Township.
A story is told that John Lee, a son of James, fought by the side of Sir Isaac Brock at the Battle of Queenston Heights in October of 1812. When Brock was wounded John Lee helped to carry him off the battlefield and later he was a pallbearer at his funeral. The Lee family has also been connected with the Battle of Stoney Creek. Sgt Lee is mentioned in the Billy Green story.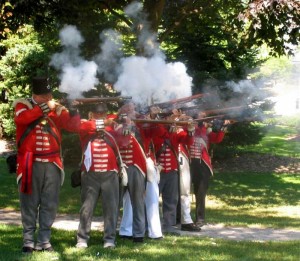 Isaac's brother, Abraham Corman, m Mary Reitter; a sister, Mary Corman m Mr. Verner; a sister, Elizabeth Corman m Mr Allen; and a sister, Sarah Corman m Captain Thomas Pettit of Saltfleet Township (their son Sgt. George Pettit served in the War of 1812 with 4th Regiment Lincoln Militia)
After Isaac's father, George Corman, d in 1804, at age 72 years, Isaac Corman inherited part of the home farm, as in 1808, he was settled on Lot 21, Conc 3, Saltfleet Township.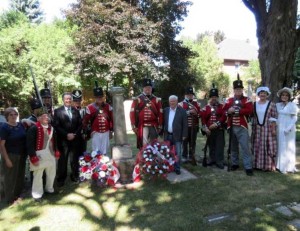 During the war, Isaac Corman lived at the foot of the escarpment near the native trail that was to become King Street. He m Keziah Green, the daughter of Ensign Adam Green UEL and Martha Smith, on 11 May 1801 in Stoney Creek, Ontario, Canada. Adam Green UEL who was a recruiter for the New Jersey Volunteers, acting under Colonel (Judge ) Nathaniel Pettit during the Revolutionary War, had Lot 24,  Conc 4, Saltfleet Township, and petitioned for additional land in 1794, after which he received an additional 300 acres (Lots 24, 25 and 26, Conc 5) adjoining.
Isaac and Keziah Corman had eleven children:
Rebecca
Alpheus
Mary
John G
Bathsheba
Desire
Isaac
George A
Elizabeth
Abraham
James F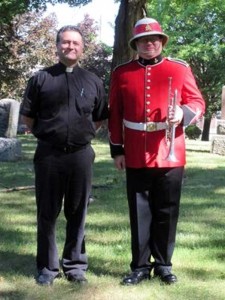 During the War of 1812, Isaac Corman fought under Captain G Carpenter in the 2nd Flank Company, 5th Regiment Lincoln Militia. (Source: Militia & Defence RG 9, IB7, Vol. 1 page 135 of National Archives of Canada; Wilfred Lauber's An Index of Land Claim Certificates of Upper Canada Militiamen who served in the War of 1812-1814, RG9, IB4, Vol. 19, File 21 pp. 888-889 at L.A.C; Soldiers of the King by William Gray page 144; and L.A.C. – RG9, IB7, Vol. 24, Digital page 1046, Film Roll T-10386)
Isaac Corman and his brother-in-law, William Green (Billy the Scout), became famous during the War of 1812 for an incident that led up to the Battle of Stoney Creek. In June 1813, when the Americans invaded the Niagara Peninsula and advanced to Stoney Creek, arriving on the east bank of the creek, they came upon Isaac Corman's farm and started to question him about the location of the British troops and Indians. When he refused to comply, he was taken prisoner. His interrogator thought that Isaac was a cousin of one of the American generals, William Henry Harrison. So the interrogator, who was a second cousin of Harrison, decided to let Isaac go. To Isaac's surprise, the American told him that the password was Wil-Hen-Har, the first three letters of each word in the name of William Henry Harrison. As Isaac was walking home, he met brother-in-law, Billy Green. After telling Billy the story and giving him the password, Billy got on his brother, Levi's horse Tip, and rode to Lt. Col. Harvey at Burlington Heights, and told him the story, which, with the information from Lt. Fitzgibbon, (spurious — written long after by a decendant and not accurate) convinced Harvey that a night attack was needed.
Abraham Corman (1823-1912) wrote down his father Isaac's story of his adventures during the Battle of Stoney Creek on the 5th and 6th of June, 1813. That story is in the Hamilton Library and is extracted below:
"Isaac Corman was working on setting fence posts on his farm, near the road from Burlington Heights to Niagara, when he was arrested by Yankee soldiers on the 5th of June, 1813. When we heard them [Yankees] going through the Creek we all went out on the hill to see them. Some of them spied us and fired, one ball struck the bars where Teenie (writer's note – Levi Green's wife Christina Cook) was sitting holding Hannah [Green] on her arm. We all went back on the mountain to one of Jim Stony's old trapping huts. Teenie went to the house.

"After a little while two officers came up and asked her if she had seen some Indians around there. She said there was a band back on the mountain. They left and Teenie came out where we were hid and whistled, I [Billy Green] answered. I told her I would go down to Isaac's. When I got there I whistled and out came Kezi (Billy's sister and Isaac Corman's wife). I asked where Isaac was and she said they had taken him prisoner and taken the trail to the Beach (writer's note — where 2 regiments of Yankees were stationed). I wanted to know how she knew. She said Alph (writer's note – Isaac's son) had followed them to the swamp.

"Where is Alph?"

"In the cellar with Becca and Kezi."

" I went down and he told me where to go. I started and ran, every now and then I would whistle until I got across the Creek when I heard Isaac hoot like an owl. I thought they had him there but he was coming back. I was going to raise an Indian war whoop and scare them when I saw Isaac coming.

"I asked how he got away. He said their major and he got a talking and said he was a second cousin to Harrison (writer's note — General William Henry Harrison). I said I was a first cousin.

"After talking a little longer a message came for him. He said I must go, you may go home.

"Isaac said 'But I can't get through the lines. I will give you the countersign' and he did.

"That countersign was Wil-Hen-Har, which Isaac passed on to Billy Green who rode to Albion Mills and then descended the escarpment to Burlington Heights to give it to General Vincent.

"The Yankees, having realized their terrible indiscretion in releasing the countersign, sent five soldiers to the Corman farm and held Isaac and his family hostage through the night of the 5th and into the 6th of June."
At the coming of the British night attack on the American camp, on the 6th, and the routing of the Yankees, the soldiers fled the Corman house leaving behind a number of personal articles which were donated to the Dundurn Castle Museum in 1938 and eventually to the Hamilton Military Museum.
Isaac is commemorated on a monument placed in the Stoney Creek Municipal Cemetery in 1938. He died 1863 in Stoney Creek at age 86 years.
Submitted by Isaac Corman's 3rd gr-granddaughter Brenda Denyes UE and David Clark UE.
Veteran Summary
Isaac Corman
Private, 5th Regiment Lincoln Militia
Place of Birth
Frederick, MD, USA
Place of Death
Stoney Creek, ON, CAN
Died on: 03 JAN 1863
Reason: Old Age
Location of Grave
Stoney Creek Municipal Cemetery, King Street
Hamilton, ON, CAN
Latitude: 43.219023N Longitude: -79.770009