Early roads in Niagara followed the shores of the river and the banks of the Chippawa Creek, Lyons Creek and the Black Creek, therefore, the first areas settled were along these pioneer roads.
Dell family members arrived as early as 1786 and settled along the shores of the Lyon's Creek in Willoughby Township. Subsequent years saw the arrival of more members of the Dell family.  In 1789 the last of the family settled in Niagara. They were  Basnett Dell Jr. his wife Ann and their three young sons Henry, Martin and Peter.
In 1798 Basnett Dell Jr. received Crown Grant of 200 acres of land in Willoughby. A total of ten children were born to Basnett and Ann Dell.
Martin Dell, the subject of this biography, second son of Basnett Dell Jr. and Ann DeFields, was born on January 16, 1786 in New Jersey. He was just three years of age when the family migrated in 1789 to Niagara. They crossed the Niagara River at Fort Niagara.
On Jan. 16, 1810 Martin Dell purchased 200 acres of land next to his parent's farm. In that same year 24 year old Martin Dell son of Basnett Jr. and Ann Dell, married Rebecca Lemon. There was a log house on this property and it is here where they raised a family of eleven children.  The following eight known children were born to Martin and Rebecca:
Catherine Dell born 1811
Basnett Dell born 1816
Jacob Lemon Dell born 1820
Martin Dell born 1822
Elizabeth Dell born 1823
Thomas Davidson Dell born 1826
Lewis F. Dell born 1829
Hester Ann Dell born 1831
When the war broke out in 1812 Martin had only been married for two years. He had a wife and a one year old daughter.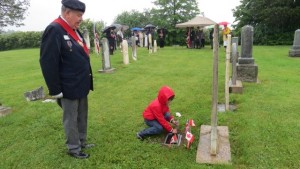 Martin served as a Private in the 1st Flank Company 3rd Regiment  Lincoln Militia under Captain Shubel Park. Martin, his brothers Henry and Peter his uncle Burris Dell and cousin Jonathan as well as other Dell family members all served in the war of 1812.
Private Martin Dell's military service is well documented within the National Archives digitized War of 1812 Upper Canada Returns, Nominal Rolls and Paylists RG918B7 Miken 183676 Reel T10386. Martin served along with his brothers Henry and Peter as well as uncle Burris Dell.
Many many more of the Dell family are in these online nominal rolls and paylists. It appears that most of the extended Dell family from Willoughby and Crowland served in this war.
The land claims petition of Martin Dell, (1st Flank Company 3rd Regiment Lincoln Militia), is proof of his war service. Martin's application for serving six months or more during the war is in file # 25 on pages 1378-1379 in An Index of Land Claims Certificates of Upper Canada Militiamen who served in the War of 1812-1814 by Wilfred R. Lauber.
In A Century of Municipal History by Ernest Cruikshank, we find that civically minded Martin Dell served as Willoughby Township Assessor in 1812 and then again as Assessor from 1825-1836.
The Martin Dell family are listed by town clerk Thomas Cummings in the 1823 Census of Willoughby Township. The household consists of 5 males and 4 females.
Rebecca Dell passed away in 1866 and is buried in Dell Cemetery.  Martin died in his log house in Willoughby Township on August 29, 1868 at 82 years of age and is buried in the Dell Cemetery on Reixinger Road in Chippawa, Ontario.
Family Links: Brother Peter Dell, Brother Henry Dell, Uncle Burris Dell
Veteran Summary
Martin Dell
Private, 3rd Regiment Lincoln Militia
Place of Birth
, NJ, USA
Place of Death
Willoughby Township, ON, CAN
Died on: 29 AUG 1868
Reason: Unknown
Location of Grave
Dell Cemetery, Rexinger Road
Chippawa, Willoughby Township, ON, CAN
Latitude: 43.037218N Longitude: -79.109514