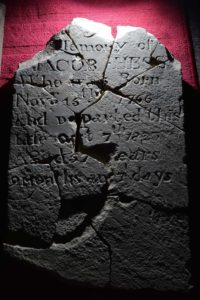 Jacob Hess, 15 Nov 1766- 7 Oct 1823, was a member of one of the first families to settle on Hamilton Mountain. Jacob's father Michael (1740-1804) and his wife Charity, originally called Gertrude, (1744-1808), descendants of Palatinate immigrants, moved with their children to Canada from Mt. Bethel, PA, USA in May 1789 because of increasing fear of persecution for their loyalty to Britain.
The Hess family settled in the area of what is now West 5th and Mohawk Road West in Hamilton, ON, formerly Barton Township. Because of his large family, Michael received a land grant of 700 acres. Jacob petitioned for his own land grant and received 200 acres of land on Lots 15 & 16, Conc 8, south of his father's property.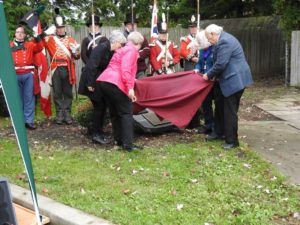 Jacob married Elizabeth Horning before 1795 and they had nine children, two boys and seven girls.
Jacob Hess served as a Private in Captain Charles Depew's company of the 5th Regiment Lincoln Militia during the War of 1812. This is substantiated on at least two pages (t-10386-01040 and t-10386-01120) of the Library and Archives Canada (LAC) online records — War of 1812: Upper Canada Returns, Nominal Rolls and Paylists (RG9 1B7).
Jacob's brothers Samuel (1764-1861) and Peter (1779-1855) also served, Samuel as a Private in Depew's company with Jacob and Peter as a Lieutenant in Captain Peter Bowman's company, 5th Regiment Lincoln Militia.
Jacob's eldest daughter, Hannah (1795-08 Aug 1872) married David Almas, Sr. who was a Sergeant in the 5th Regiment Lincoln Militia during the War of 1812 and after the war a Lieutenant in the 3rd Regiment Gore Militia.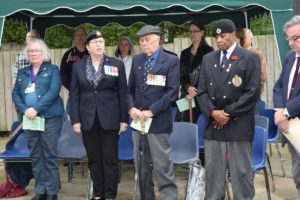 When Michael Hess died in 1804, he was buried in a small cemetery on the property of one of his neighbours, Henry Smith. In 1808, Charity was buried next to him. When Jacob died 7 Oct 1823 of unknown causes, he was buried next to his parents. Because of the prominence of the Hess's headstones, the cemetery came to be called The Hess Cemetery.
The cemetery (O.G.S. # 4401) is located on Lot 18, Conc 6, in the former Township of Barton, now Hamilton, ON. Now inactive and in the care of Church of the Resurrection (Anglican), 435 Mohawk Road West, the cemetery is just south-east of the church building.
In 1996 the cemetery was vandalized and Michael, Charity, and Jacob's stones were broken up. The pieces of these stones were taken into the Church building for safe storage. Further information about the cemetery may be obtained from the Church office.
The Press Release and Order of Services can be downloaded by clicking on this link.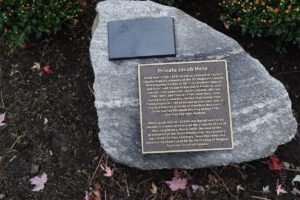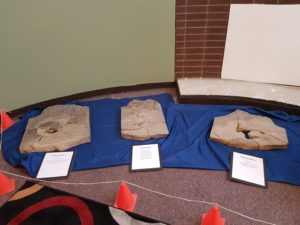 Veteran Summary
Jacob Hess
Private, 5th Regiment Lincoln Militia
Place of Birth
Mt. Bethel, PA, USA
Place of Death
Hamilton, ON, CAN
Died on: 07 OCT 1823
Reason: Unknown
Location of Grave
The Hess Cemetery, 435 Mohawk Road West
Hamilton, ON, CAN
Latitude: 43.229877N Longitude: -79.900579