Private Benjamin Smith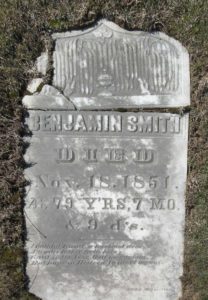 Benjamin Smith was born 26 Mar 1773, in Sussex County, New Jersey, and died 18 Nov 1851 in Ancaster, Ontario to John H. Smith, United Empire Loyalist and Anna Roy.
Benjamin married 10 Dec 1794 in Ancaster, Ontario to Nancy Ann Gordon, born 15 Dec 1774, Sussex County, New Jersey, died 27 Jul 1854 in Ancaster, Ontario, daughter of United Empire Loyalist Peter Gordon and wife Mary Pettit.
During the War of 1812, Benjamin Smith served as a private in the 5th Regiment Lincoln Militia throughout the war and in the 2nd Regiment York Militia on one occasion in 1813. These two regiments were sometimes stationed together and men were transferred between them. Benjamin also wrote about his militia service in his diary. On 15 Oct 1812, he went to Terryberry's for militia drill and heard about the Battle of Queenston Heights.
He served from October 17 to 24, 1812 in Captain John Smith's Company.
On 17 Oct 17 he marched to Aikman's and stayed the night at Adam Green's. The next day he was at the 12 Mile Creek and stayed at the still house. On 19 Oct he was at McLean's and stayed there until the 25th in Roeback's barn. On 26 Oct they marched to Andrew Miller's where they stayed until 23 Nov when they moved to Oliver's.
He served from 25 Oct to 24 Nov 1812 in Captain John Smith's Company and was absent without leave from 25 Nov to 16 Dec 1812 from the same company.
On 29Nov he heard the cannons firing during the Battle of Black Rock. In the morning they marched to Peter Wintermoots and stayed there. He noted that many were sick and some died. On 11 Dec he was lame with rheumatism and at home.
He served from 6 to 11 Sep 1813 in Lieutenant Michael Shower's Detachment.
He served from 6 to 7 Oct 1813 in Captain Peter Bowman's Company.
He was working on Dundas St with the 2nd Regiment York Militia from 26 Oct to 6 Nov 1813 under Sergeant Duncan McQueen.
He served from 20 Jun to 24Jul 1814 in a detachment under the command of Lieutenant Colonel Andrew Bradt and was present at the Battle of Lundy's Lane on July 25th.
On 14Jul 1814 he was stationed at the 20 Mile Creek. On 20 Jul 1814 he was scouting in Queenston. On 22 Jul 1814 he marched to the 10 Mile Creek. Five British officers were taken prisoner that day by the Americans. On 25 Jul 1814 he travelled home.
My 4th Great Grandfather
Marilyn Rayner Hardsand UE
Veteran Summary
Benjamin Smith
Private, 5th Regiment of Lincoln Militia
Place of Birth
Sussex County, New Jesey, United States
Place of Death
Ancaster, Ontario, CAN
Died on: 18 NOV 1851
Reason: Old Age
Location of Grave
Bowman Cemetery, 880 Garner Road
Ancaster, ON, CAN
Latitude: 43.2081N Longitude: -79.94253