Gunner Lewis B. Smith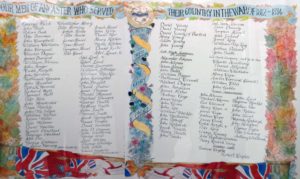 Lewis B Smith born 10 Jun 1764 in Amwell, Sussex, New Jersey, USA and his wife Phoebe Huffman born 30 Sep 1772 , married in 1785, at Johnsonburg, New Jersey, U.S.A. Shortly there after, they headed to Upper Canada to escape persecution.
The family had been members of the New Jersey Volunteers, and had served consistently, for the British, during the American Revolution. During the War of 1812, Lewis was a Gunner in Captain Kerby's, 2nd Regiment Lincoln Artillery. Lewis was died on 3 Dec 1812, at the Battle of Queenston Heights from Dysentery.
Lewis's son, Matthias, was a private with the 5th Regiment Lincoln Militia, 1st Flank Company. He was killed at the Battle of Chippewa, two weeks after his father's death.
The remaining sons of Lewis B Smith, named Henry Lewis, Jacob Lewis are also buried in Bowman Cemetery, and Lewis Smith Jr , survived and went on to serve in the Rebellion of 1837.
Lewis died of Dysentery in the War of 1812.
Veteran Summary
Lewis Smith
Gunner, 2nd Regiment Lincoln Militia, Artillery
Place of Birth
Amwell, Sussex, New Jersey, United States
Place of Death
Queenston Heights, Queenston, Upper Canada, CAN
Died on: 13 OCT 1812
Reason: Dysentery at Queenston Heights
Location of Grave
Bowman, 880 Garner Road
Ancaster, ON, CAN
Latitude: 43.2081N Longitude: -79.94253