John H. Smith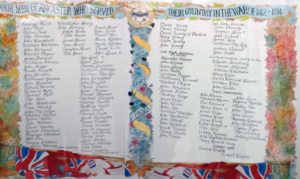 Captain Little John John Smith was born at Ludgate Hill, New Jersey, USA 13 Nov 1747 – 4 Aug 1846 , he was known as Little John as there were two John Smiths that came up at the same time.
John Smith first settled in Grimsby. Then in 1789 he settled in Ancaster. John Smith 13 Nov 1747 – 4 Aug 1846 married 10 Mar 1772 Anna Roy his second wife 13 Apr 1752 – 8 Sept 1830. They had eight boys and one girl.
He received a total of 1600 Acres, Lots 47 Conc 5, Lots 46, & 47 Conc 4 and Lot 16 Conc 1 & 2 in Grimsby, Ontario.
At the time John emigrated to Ontario, only four or five huts were along the Indian Trail, from Niagara to Ancaster. There was but one hut at Hamilton and one or two at Brantford. As they passed they were sometimes forced to cut a road through the dense forest. John "took up" 200 acres of land apiece for each of his sons.
In 1789 Little John Smith sold his farm on Main Street West that extended from Lake Ontario to the escarpment , in Grimsby for 40£ to Jonathan Woolverton and moved the family to Ancaster, settling on Lot 46 Conc 4, next to John Book.
John served in the 5th Regiment Lincoln Militia, 1st Regiment with Peter Bowman. He was also a School Inspector. In coming to Canada two children, Abraham & William were carried in baskets on a horse's back. John served on the Grimsby Town Council. In 1789 they settled in Ancaster near Bennett's Corner. He had 1600 acres in all.
In 10 July 1801 in the Hamilton Crown Grant Book he received Lots 46 & 47 Conc 4 and North 1/4, 50 acres Lot 47 Conc 5 in Ancaster, Ontario at Hwy 53 South. Harland Smith has the grandfathers clock that John Smith brought with him.
John Smith Sr, a proven Loyalist and listed in the Old Loyalist List, appendix B: as Smith, John, Home District Head of the Lake, a settler in 1788, with three sons Benjamin, Stephen and John.
John Smith Sr married Anna Roy the daughter of Stephen and Annie Roy, came to America and lived in Sussex County, New Jersey where he was a magistrate. He finally settled in Ancaster, Wentworth County, Ontario, Canada, where he died on 4 August 1846. He was 98 years of age when he died.
When he and his family arrived at the Head of the Lake, he petitioned for land "not only for himself but for his family," and the petition was granted 28 Sept 1793. He was a Crown Patentee of Lot 47 Conc 3 and received Lot 46 Conc 3 for his son Stephen, Lot 45 Conc 3 for his son Benjamin, and Lot 49 Conc 4 for his son John.
The petition also asked for "as a man with family" Lot 45 and 46 Conc 4, continuous with Lots on Conc 3. This land was still in the Smith family in 1851 and parts of it into the 1980s.
My 5th Great Grandfather
Marilyn Hardsand U.E.
Veteran Summary
John Smith
Captain, 5th Regiment Lincoln Militia
Place of Birth
Woodbridge, Middlesex County, New Jersey, United States
Place of Death
Ancaster, Ontario, CAN
Died on: 04 AUG 1846
Reason: Old age
Location of Grave
Bowman Cemetery, 880 Garner Road East
Ancaster, ON, CAN
Latitude: 43.2081N Longitude: -79.94253