Cornelius Bertran was born c1785, likely in Sussex County, New Jersey, USA, to David Bertran.  David served in the 2nd Battalion of the New Jersey Volunteers during the American Revolution.  He and his family came to Upper Canada in 1794 when he was given a land grant in Clinton Township as a United Empire Loyalist.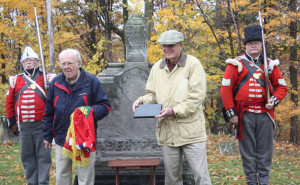 Cornelius married Anna Maria Thompson (1787-1876) c1808, and together they had 10 children:
Hannah
George
John
Cornelius Jr.
James
Maria
David
Secord
Elizabeth
Daniel
Homes built by George and Daniel still stand on the land originally owned by Cornelius along Lake Ontario.
During the War of 1812, Cornelius served in the Flank Company of the 1st Regiment of Lincoln Militia.
Cornelius passed away 9 Apr, 1859 followed by Maria 24 Feb 1876.  Both are buried in the Snure Cemetery (sometimes referred to Christ's Disciples Churchyard),  Jordan, Ontario.
Veteran Summary
Cornelius Bertran
Private, 1st Regiment of Lincoln Militia
Place of Birth
, New Jersey, USA
Place of Death
Clinton, ON, CAN
Died on: 04 SEP 1859
Reason: Leprosy
Location of Grave
Snure Cemetery, Nineteenth Street
Lincoln, ON, CAN
Latitude: 43.143586N Longitude: -79.368945