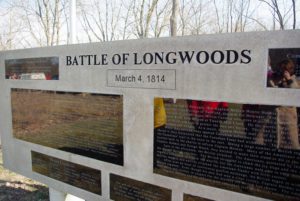 William Ward, eldest son of career soldier, George Ward, grew up on the banks of the Thames River in an area called Paint Creek, Longwoods. Much later this area was named for his father and mother, George Ward and Margaret (Shaw) Ward.  Both parents were born in Ireland but arrived in this area of Upper Canada as a soldering family. At the request of Lieutenant Governor John Simcoe, George Ward was appointed to command a block house on the Thames River as well as four gun boats. George Ward was also to establish a public house (halfway tavern/inn) in the Paint Creek area.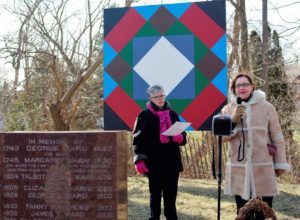 The War of 1812 became very serious late in the war, in this area, particularly at the Battle of the Thames, 5 Oct 1813. This British defeat saw the loss of the great war chief Tecumseh and the continued retreat of British General Henry Proctor to Burlington Heights. The Americans had a lot of strength over this small community. They occupied the little village of Fairfield where the Moravian missionaries and their families lived. About 1,000 mounted American troops burned the houses of the peace loving Moravians as they found paperwork left by General Proctor. The Moravians didn't want to take sides as they mended battle wounds for both the British and the Americans. The Ward home that was also a tavern and an inn was also burnt down by the Americans at this time.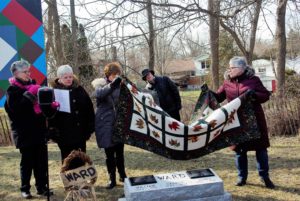 The Kent as well as the Essex militia had fought in Michigan and Ohio in 1812. By June 1813 they had been dismissed home to tend to their farms and businesses. After the Battle of the Thames however, many locals took up arms and training again. George Ward acted as drill sergeant.  By 1814, George was 71 years old. He had served as drill sergeant other times and he was tough with high expectations. His son, William was only 20 years old. He served with Captain John McGregor's Company and was eventually taken to Detroit, as a prisoner of the Americans. It is understood that William and some other young men who were able, and very valuable to the British, were taken as prisoners . William Ward was captured on 4 May 4 1814 and released in November 1814, a period of six or seven months. He would have taken an active part in the Battle of the Longwoods that took place on 6 March 1814, right on his home farm.
William carried on the loyal tradition of soldier, walking in his father's footsteps.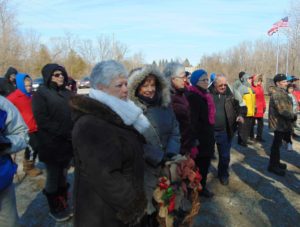 Sources
Eighteentwelve.ca  Battle of the Longwoods on George Ward's farm
Eighteentwelve.ca  Battle of the Thames (Moraviantown)
Collections Canada   War of 1812: Upper Canada Returns, Nominal Rolls and Paylists, RG 9 1B7, Mikan Number: 183676, Microform: t-10379; Rg 9, IB7, Vol. 32, p. 588.  William Ward listed as a prisoner during War of 1812, militia pay list.
---
Author is submitting this application for Mrs. Sharon McDonald, Harrow ON, descendant of George Ward, her 3rd Great Grandfather. William Ward would be her 2nd Great Uncle.
Veteran Summary
William Ward
Private, 1st Regiment Kent Militia
Place of Birth
Wardsville, ON, CAN
Place of Death
Wardsville, ON, CAN
Died on: 01 JAN 1851
Reason: Unknown
Location of Grave
Wardsville Municipal Cemetery, Kennedy St.
Wardsville, ON, CAN
Latitude: 42.655365N Longitude: -81.751515