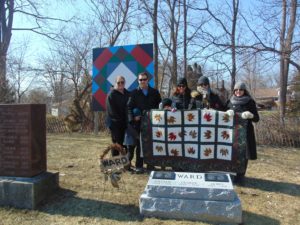 George Ward was born in Ireland in 1743 and as a young man he joined the British 58th Regiment of Foot, which was first formed in 1755 during the Seven Years war (1754-1763). He basically spent his entire adult life in service for the British. He served in many cities in Ireland, went to Quebec in 1776 and fought successfully at Three Rivers. Following that battle he became a sergeant over a company of the best marksmen from each of the 9th, 20th, 21st, 24th, 34th, 53rd and 62nd regiments. This company was ordered to Ticonderoga, where they beat the enemy at an outpost but were defeated later and taken as prisoners to Prospect Hill, near Boston. His great uncle was a Rebel general and as such offered George a position on his side but George declined and was later taken to Rutland where he along with 17 corporals and a drummer boy escaped. They headed for the British safe haven of New York.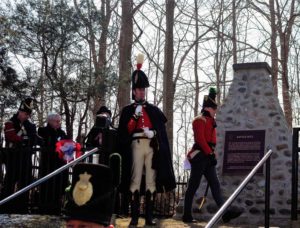 When in New York, Sir Henry Clinton allowed these men to join the regiment of their choice. George Ward joined the Volunteers of Ireland and he was appointed as drill sergeant and soon became Sergeant Major. This company captured Charleston, South Carolina. For his conduct at the Battle of Camden 16 August 1780, George Ward was given a medal for bravery.
After the peace, George was discharged as a Sergeant Major, ordered to Ireland and offered a pension that he rejected. He then enlisted 24 young men and took them to England at his own expense. The unit marched to Scotland to meet up with the 24th. Hoping for a good position, George was simply made a drill sergeant. After two years he returned to Ireland, where he served again and then was sent back to Quebec. He did a tour of Detroit and Governor Simcoe appointed him to command a block house on the Thames River as well as four gun boats. Following this appointment he was called to Detroit to be a Lieutenant in the 24th Regiment of Foot. That position was short lived as Lord Dorchester ordered Colonel England to have Ward put on a pension. Colonel England took Ward's discharge with him, to London but Colonel England and the ship, Lady was taken by the French so that ended the pension action for Ward.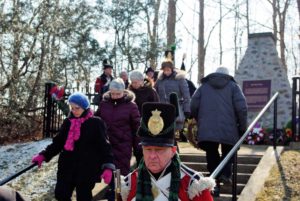 After the Battle of the Thames, 5 Oct 1813,  the enemy burnt Ward's house down and scattered his family to the woods. Earlier the government of Upper Canada had invited George to establish a public house (halfway tavern/inn) here so it was more than a mere home. When the enemy saw Ward, they captured him, put a rope around his neck and threatened him with hanging.
Late February 1814 the Company of Kent Volunteers was ordered to Camden and though George considered himself to be on parole, he joined the Kent Volunteers due to the violence and damage he had personally experienced from the Americans. They had taken control of his home, damaged his property, cut down 88 apple trees and driven him and his family from their home, at night. He also took along James Moody, whom the Americans had in irons, in Detroit, but he had escaped and George had been protecting him in the woods, for five weeks.  They both joined the Kent Volunteer militia.
Shortly after joining the Volunteers, George Ward found a favourable place to retaliate against the Americans but the Captain ordered a retreat. The Kent Volunteers reached Delaware the next day and remained there until 4 March. George stayed with part of the company on the south side of the Thames River whereas the Captain was on the north side with the rest of the company, facing each other. George Ward crossed the Thames to talk to Captain Andrew Stewart and to ask leave to visit his family. Stewart told him there were no Americans closer than Detroit, but he was wrong.
Meanwhile the Volunteers were marching back from Delaware and in scattered groupings of two to five at 8 a.m. George asked if he could ride ahead and wait for them to assemble as a group, on his way home. By time his conversation was over with Captain Stewart, the Volunteers were out of sight. George didn't see where they went when suddenly he was surrounded by Americans and they took him to their commanding officer, who questioned him concerning The Royals 69th.
George Ward had picked up and hidden a British howitzer that was left behind, after the Battle of the Thames. The Americans stripped Ward to his shirt and upon seeing a concealed sword, insisted that he knew something. He told them he could tell them nothing, but they could send out their own advance party and scout for themselves.
The commanding officer of the Americans allowed George to go home but it was late and he couldn't get all the way home. George got as far as the bend and there he met Thomas Matthews so he told him that he'd give him a horse, bridle and saddle if he'd ride through the woods and tell Captain Stewart the location and numbers of Americans close by. Matthews refused and then George asked him if he was an American and indeed that was the case. Later George Ward accused Thomas Mathews and his neighbour, James Edwards of being traitors.
Since George was not with the rest of the company, due to having been taken into custody by the Americans, some men in higher authority such as William Caldwell, Jaques Baby and Dr. Robert Richardson accused George of being a traitor. George Ward always felt they were jealous of his land. Apparently Caldwell saw George leave the American encampment site and this made him suspicious of Ward's loyalty.
Though the treason charge was never formally made, George Ward traveled to Amherstburg to defend himself numerous times, attempting to regain his pension . He had been imprisoned seven months in Detroit by the Americans and had been nearly hung by them, his house had been burnt down and his grain and possessions stolen, yet George Ward was never able to get a pension for his time served or to get his name completely cleared.
George Ward had numerous local people write supporting affidavits that were presented between 1819 and 1825 to The Court of Inquire that was established to investigate charges against him.  In his final plea, in 1825, to Major General Pergrine Maitland, Commanding Officer of His Majesty's Forces in Upper Canada, George explained that he was deceived by Dr. Richardson. George Ward had 23 loyal men and four American field officers attest to his loyalty to the Crown. George requested a court martial but was never given one, despite writing letters late into the 1820's. George Ward was 70 years old when the matter went to the Supreme Court and no verdict was rendered. George Ward stated that he had served loyally for 34 years.
George Ward lived another twelve years, a long life, that of 84 years of age. Those who knew him well knew he was a man of courage and loyalty. The town of Wardsville was named for him, not far from the famous Battle of the Thames and the Battle of the Longwoods.
Author and historian Glenn Stott states:
"George Ward was a hardworking, honest, sincere citizen, who was definitely pro-British. He was a victim of slander which was never proven."
Sources
LongwoodsBarnQuilts.ca  See fabric quilt to honour George and Margaret Ward, founders of Wardsville. Each square became a barn quilt in the area.
WardsvilleBarnQuilts.ca Actual barn quilt trail also showing cemetery location.
Ward, George, Dominion Archives, reel C2783, RG8 Vol. C 205, p 163-168, December 28, 1829, Paint Creek, Long Wood, Upper Canada.
Stott, Glenn, Greater Evils, The War of 1812 in Southwestern Ontario, Global Genealogy, 2012.
---
The author is submitting this application for Mrs. Sharon McDonald, Harrow ON, descendant of George Ward, her 3rd Great Grandfather.
Veteran Summary
George Ward
Lieutenant - Drill Sergeant , 1st Regiment Kent Militia
Place of Birth
Queen's City, Leix Cty, IRL
Place of Death
Wardsville, ON, CAN
Died on: 01 JAN 1837
Reason: Old Age
Location of Grave
Wardsville Municipal Cemetery, Kennedy St.
Wardsville, ON, CAN
Latitude: 42.655365N Longitude: -81.751515