Samuel Taylor, Private, 11th Glengarry Light Infantry Fencibles, was born 1791, the eldest son of loyalists Nathaniel Taylor and Anna (Osborn) Taylor.  The family settled on a grant of land in Prince Edward County ON.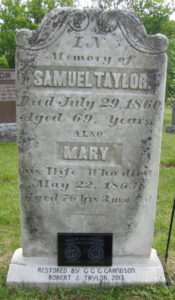 While I have been unable to determine exactly when Samuel joined the Glengarry Light Infantry Fencibles, I do know that he saw action, and was wounded, at the Battle of York, 27 April 1813.  His name is listed in Library and Archives Canada, Ottawa, as follows:
Glengarry Infantry
KILLED:  Private W. Harris, D. Sturdevant
WOUNDED:  Ensign Robins, Private M. Gallinger, Private J. Brown, Private Samuel Taylor
MISSING:  Private J. Gould, Private J. Bedel, Private A. Carscallen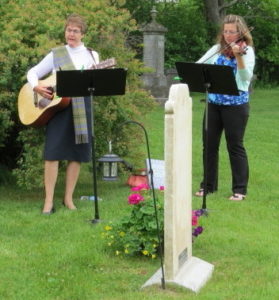 For Samuel's service in the War of 1812-1814 he was awarded 100 acres of land in Prince Edward County ON.  The original deed for my 3rd great grandfather's property was in my possession until 2006 at which time I donated it to the University of Toronto.  It is on a large piece of parchment paper with a large portion of the wax seal intact and is now on display in a showcase at the Soldiers' Tower, University of Toronto.
Further evidence supporting Samuel's military service during the War of 1812-1814 can also be found at Library and Archives Canada in the Upper Canada Land Petitions, Talbot Papers – records T 12, 1-200, 1819, number 150.  There it is recorded as follows:
Land Petition, York, July 14th, 1817
"To his Honor Samuel Smith, Esquire, Administrator of the Government of the Province of Canada

The Petition of Samuel Taylor, a Private Soldier in His Majesty's Glengarry Light Infantry

Humbly Sheweth

That Your Petitioner received a Location ticket for the front half of Lot No. 17 in the second Concession West of Green Point in the Township of Sophiasburgh in the Midland District as a Military Claimant on the 1st day of January 1816, as appears by the Certificate of DMG Rogers Esq. on the Discharge of Your Petitioner from the Glengarry Light Infantry."
Relative to the same piece of property mentioned above, there is also a letter dated the 28 March 1820 in which several of Samuel's neighbours attested to the fact that he had  cleared the land and had a sufficient dwelling house on the same.  This letter begins with the certification  "Samuel Taylor late of His Majesty's Glengarry Regiment of Light Infantry."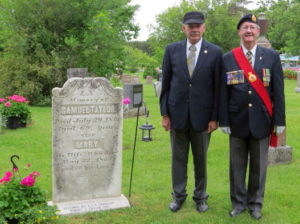 Following the war, Samuel married Marry Emmett Howell, widow of Richard Howell (son of Sgt. Major John Howell, Butler's Rangers) in 1815.  Mary had three children from her first marriage, namely James, Richard and Catherine.
As Samuel and Mary's family grew, they tried to buy more land nearby but none was available.  In Tyendinaga Township, just across the Bay of Quinte, Crown lands were available and so the entire family moved there in 1832.  Samuel was a farmer, but his service to his country continued.  His name can be found on A Field Return of 1st Regiment of Hastings (County) Militia assembled at Shannonville on 18 Oct 1834, under command of Capt. George Bleeker [from Upper Canada (Ontario) Militia Lists in Library and Archives Canada].  It is interesting to note that his eldest son, Allen, is on the list just below Samuel's name.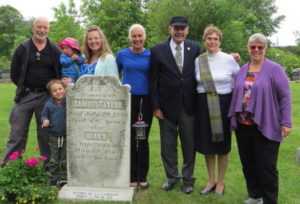 Samuel continued to farm and his name appears on the 1851 Agricultural Census, along with his two eldest sons, Allen and Samuel Dudley Taylor.
Samuel died 29 July 1860 as a result of being thrown by a horse.  He is buried in Shannonville Riverview Cemetery, Queen Street, Shannonville ON.  His wife, Mary, rests with him.  Many other Taylor descendants are also buried there.
Veteran Summary
Samuel Taylor
Private, 11th Glengarry Light Infantry Fencibles
Place of Birth
Unknown, Unknown, Uunknown
Place of Death
Tyendinaga Township, Hastings County, ON, CAN
Died on: 29 JUL 1860
Reason: thrown from a horse
Location of Grave
Shannonville Riverview Cemetery, Queen Street
Shannonville, ON, CAN
Latitude: 44.1191548N Longitude: -77.232394