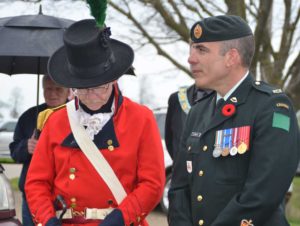 Jarvis Thayer, son of Silas Thayer and Perley Pond, was born 24 Nov  1770 in Mendon, Worchester, Massachusetts. In the 1790s he came to Canada, settling in Gainsborough Twp., Lincoln County. In 1796 or 1797 he married Susannah Parker, daughter of UE Loyalist John Parker, Sr. and his wife Nancy Watson. Susannah was born in Pennsylvania c1779.
Jarvis and Susannah had moved to Elgin County c1812. Jarvis served as a Private in Captain Leslie Patterson's Company and Captain Daniel Rapelje's Company in the 1st Regiment Middlesex Militia. His service is well documented in the War of 1812 Upper Canada Returns, Nominal Rolls and Paylists, RG 9 1B7. As well, he received a Certificate of Service which allowed him to receive 100 acres of land for his service.
On 27 Jan 1816 Susannah received her Order-in-Council which allowed her to acquire Lot 4 Conc 3, Yarmouth Twp. Jarvis purchased Lots 16 Conc 4 and Lots 14 Conc 2.
They had nine children:
John Thayer b 1798 in Niagara (m Deborah Johnson)
Nahum Pond Thayer b 1802 in Niagara (m Lovina Swick)
Jarvis Thayer II b 1802 in Niagara (m Nancy Ann Parker)
Simeon Thayer b 1804 in Niagara; died before 1832
Cyrus D. Thayer b 1808 in Niagara (m Esther McClellan)
Almira Thayer b 1811 in Niagara (m Edmund Smith)
Nancy Anne Thayer b 1813 Middlesex County (m Henry Mandeville)
Perley Thayer b 1815/16 Yarmouth Twp. (m1 George Croft, m2 John Church, m3 John C. Willis)
Elizabeth Thayer b 1818 in Yarmouth Twp. (m George Croft)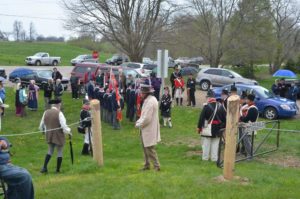 Neither Jarvis nor Susannah has an identified resting place. Susannah signed her will 10 Aug 1826 and it was registered on her property 22 Feb 1833. She left each of her surviving sons five shillings and divided Lot 4 Conc 3 into four 50 acre parcels for her four daughters, Almira, Nancy, Perley and Elizabeth.
Jarvis signed his will on 17 Nov 1832. Susannah was not mentioned, so possibly she had passed away at that point. Family historians for the Thayer family believe he died before March 1833. Judging by the location of their properties, it could make sense they were buried in Seminary, Plains Baptist or Union Cemeteries.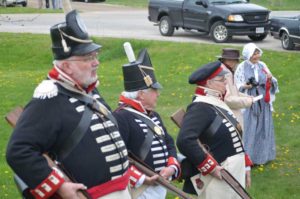 Veteran Summary
Jarvis Thayer
Private, Flank Company 1st Regiment Middlesex Militia
Place of Birth
Mendon, Worchester, Massachusetts, Thirteen Colonies
Place of Death
Yarmouth Twp., Upper Canada, CAN
Died on: 01 MAR 1833
Reason: unknown. Month and Day unknown. Likely before 1833
Location of Grave
Seminary Cemetery, 6150 Centennial Road, NE corner, Centennial Road and Sparta Line
Yarmouth Twp., Municipality of Central Elgin, ON, CAN
Latitude: 42.704052N Longitude: -81.148256