Levi Green was born in May 1783 in Hardwick, Sussex, New Jersey, United States. He was the son of Ensign Adam Green UEL and Martha (Smith) Green. (Source: Upper Canada Land Petitions "C" Bundle 20, 1836-1837, RG1, L3, Vol 213, Petition #87) Adam Green UEL, who was a recruiter for the New Jersey Volunteers, acting under Colonel (Judge) Nathaniel Pettit during the Revolutionary War, had Lot 24 Conc. 4, Saltfleet Township, and petitioned for additional land in 1794, after which he received an additional 300 acres (Lot 24, 25 and 26, Conc 5) adjoining.
Children of Adam Green UEL and Martha  were:
Anna (Jennie) Green, b1777 d1850 m Andrew Muir
Sarah Green, b1779 d1863 m Nicholas Weitzel
Rebecca (Becky) Green, b1780 d1864 m William Lacey
Samuel Green, b1781 d1866 m Elizabeth Glover
Keziah (Desire) Green, b1782 d1864 m Private Isaac Corman
Levi Green, b1783   d1846 m Christina Cook
Freeman Green, b1785 d1878 m1 m2 Elizabeth Guggerty
 John Green, b1787 d1866 Bachelor
Richard Green, b1789 d1861 m Rachel Bonham
Mary (Polly) Green, b1791 d1863m John Yeager
William Green, b1794 d1877m Mary Summers
In Levi Green's Upper Canada land petition it states
"the son of Adam Green of the Township of Saltfleet… UE Loyalist who retained his loyalty during the late war: and that the said Levi Green did his duty…"
Upper Canada Land Petitions 1837 V213, Bundle G20 Petition #87, RG1L3, C-2035.
In 1808 he married Christina (Tina) Cook who was born  in 1780 in Pennsylvania.  She was the daughter of Jeremiah Cook and Hannah Walters, who are buried in the Stoney Creek Municipal Cemetery, Hamilton, Ontario. Christina (Tenie Green was the name on the death record) died on 7 Mar 1882 at age 102 years at her home on Lot 26 Concession V in Saltfleet, Wentworth, Ontario. Levi Green died in Saltfleet, Wentworth, Ontario on 24 Jun 1846 at the age of sixty-three years old.
Levi and Christina Green's  eight children, all born in Saltfleet, Wentworth, Ontario:
Elizabeth (Betsy) Green, b1809 d1865 m Jeremiah Soules
Hannah Green, b1810 m Jeremiah London
Magdalene (Lanah) Green, b1812 d1892 m David Lutz
James Green, b1817 d1912 m Caroline O'Connor
Mary Ann Green, b1818 d1901 Spinster
Andrew M. Green, b1824 d1877 m1 Clarissa Jones m2  Mary Anne Turner
John Walter Green, b1825 d1910 m Mary Ann Clough
William Colleus Green, b1828 d1919 m Susannah Condon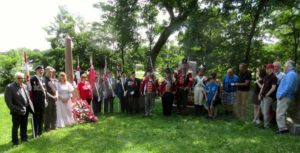 Levi  Green was a Private in the 5th Regiment Lincoln Militia. (Source: Militia & Defence RG 9, IB7, Vol. 24 pages 174, 455, 458, 461, 469, 476, 491, 510, 549, and 551,  and Vol. 25 page 49 of National Archives of Canada). Levi fought in Captain John Lottridge's  5th Regiment Lincoln Militia in 1812, Captain Isreal Dawdy's  5th Regiment Lincoln Militia in 1813, and Captain Robert Land's  5th Regiment Lincoln Militia in 1814, during the War of 1812-1814. Levi's brothers, John Green, William Green, Samuel Green, and Freeman Green  also fought in the war of 1812-1814. His brother-in-law was Private Isaac Corman, who is known for giving the password to Billy the Scout (Levi Green's youngest brother, William) during the Battle of Stoney Creek.
"…We heard that the American Army were camping down east below the Forty, so my brother Levi and I went down the road on top of the mountain about 6 o'clock in the morning June 5. We got to the Forty and stayed out on the peak of the mountain above the Forty until noon when we spied troops marching up the road. We stayed there until all the enemy but a few had passed through the Village. Then we yelled like Indians. I tell you those simple fellows did run. Then we ran along the mountain and took down the road the Americans had just passed over. Levi ran across a soldier with his boot off, putting a rag on his foot. The soldier grabbed for his gun, but Levi was too quick for him, hitting him with a stick until he yelled in pain and some of the scouts fired at us.…"
From Hamilton Spectator, March 1938 "Battlefield House Museum" Billy Green the Scout account by grandson, John K. Green
Re-enactors of 2nd Lincoln Militia firing off their muskets in honour of Private Levi Green.

"The writer has in his possession the sword that Col. Harvey gave to Billy the Scout, part of the uniform worn by him, also his army drum, upon which he was an expert. His brother Levi was a good fifer. These two brothers took an active part in furnishing music for the militia on their June 4 training days and other occasions when good martial music was needed. "
Published in 1938 in Hamilton Spectator by John Green, grandson of Billy the Scout. Battlefield House Museum.
Submitted by 3rd great granddaughter Brenda Denyes, 3rd great nephew David Clark and 4th great grandson Paul Preece.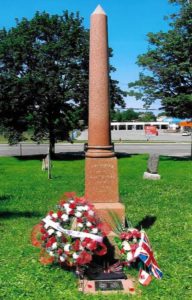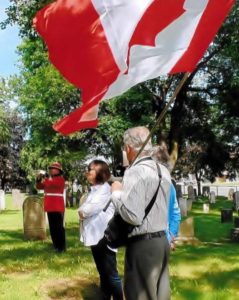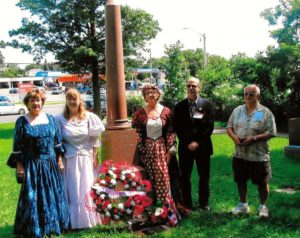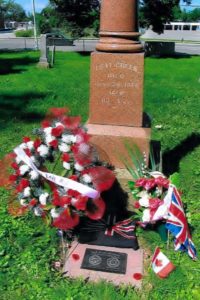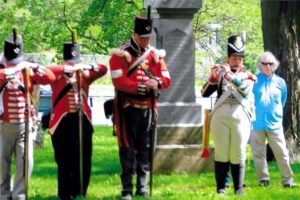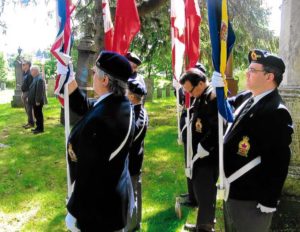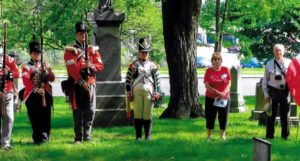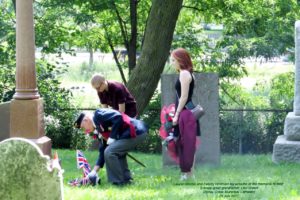 Veteran Summary
Levi Green
Private, 5th Regiment Lincoln Militia
Place of Birth
Hardwick, Sussex, New Jersey, United States
Place of Death
Stoney Creek, Ontario, CAN
Died on: 24 JUN 1846
Reason: Levi died on June 24, 1846 at the age of sixty-three years old.
Location of Grave
Stoney Creek Municipal Cemetery, King Street
Hamilton, ON, CAN
Latitude: 43.219023N Longitude: -79.770009