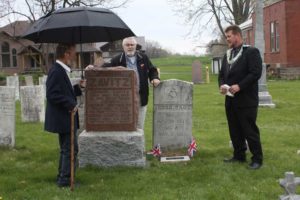 Jesse Page was born the 30 August 1771 in Goochland,  Virginia, the son of Joseph Page and Mary Robbins.  He was the eldest son, but second of five children born to Joseph and Mary.  At some point, Jesse emigrated to Wainfleet  Twp.,  Welland County where he met and married  Elizabeth Parker on the 20 February 1810.  Elizabeth was born the 2 Jan 1776 in  Northumberland County, Pennsylvania.  Jesse and Elizabeth were members of the Society of Friends and became one of the original families who followed Jonathan Doan to Yarmouth  Twp., Elgin County when the Quaker  colony was being established there.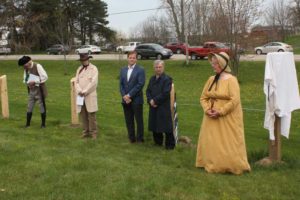 Township land papers reveal that Jesse arrived in Yarmouth in the first wave in 1810.  His first son, Joseph was born later that year.  He eventually settled on Lot 12 Conc 3, first leasing it and then purchasing it outright.  Besides farming, he was a tanner by trade and quickly built a dam on Beaver Creek to move his waterwheel  to break up bark for tanning.  The family home was across the street from what is now Seminary Cemetery.
When the war broke out, Jesse came away from his Quaker beliefs and served as a Private in the 1st Regiment Middlesex Militia.  The earliest we find him is in July and August 1812.  He served under Captain Leslie Patterson and lastly under Captain Gilman Willson.  His service is well-documented in the War of 1812 Upper Canada Returns, Nominal Rolls and Paylists, RG 9 1B7.  Following the war, Jesse did not obtain the requisite Certificate of Service so he could be granted 100 acres of land for his service.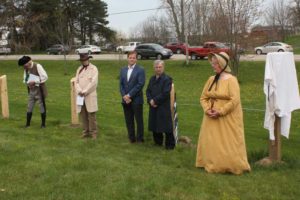 A snapshot of the Page family was captured in the in the details of the 16 August 1814 raid in Yarmouth Twp., by the Americans.  The farm was raided and the family was left with only the clothing on their backs.  The family consisted at that time of Jesse, his wife and six children.  Only two sons have been identified:
Joseph 1810-1883
Jesse, Jr. 1814-1832
It assumed the other four were females because their names are not easily found.
Tragedy hit this family on 3 April 1832 with the drowning on Lake Erie of 18 year old Jesse Jr, while he was out on an excursion.  He was buried in Seminary  Cemetery.
Elizabeth passed away the 25 Sept 1845 at the age of 70 and was laid to rest beside her son.  Jesse Sr.  passed away at the age of 82 on the 3 May 1852.  His gravestone bears the insignia of the Freemasons.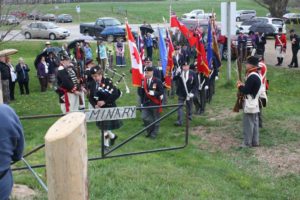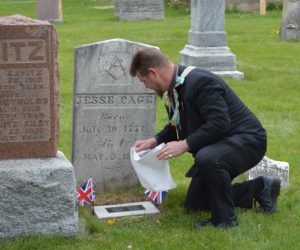 Veteran Summary
Jesse Page
Private, 1st Regiment Middlesex Militia
Place of Birth
30 July 1771, Goochland, Virginia, Thirteen Colonies
Place of Death
Yarmouth Twp., ON, CAN
Died on: 03 MAY 1852
Reason: Unknown
Location of Grave
Seminary Cemetery, NE Corner Centennial Road and Sparta Line, Lot 4, Concession 3
Union , ON, CAN
Latitude: 42.704045N Longitude: -81.148311