Captain Daniel Young, 5th Lincoln Militia Regiment
By William (Bill) Young, UE (January 20 2015)
Captain Daniel Young was my 4th great-grandfather.
Daniel was born about 1749 in Stone Arabia, near Canajoharie in the Mohawk Valley of New York State.  He was the son of Johann Adam (Adam) Young, born 17 May 1717 in Foxtown (Fuchsendorf) on the Schoharie River, New York, and Catherine Elizabeth Schrimling (Catterina Lis Schremling), born about 1690.  Adam's parents, Johann Theobald (Dewalt) (David) Jung and Maria Catharine Schneider (Mary Catharine Snyder), left the Palatinate area of the Rhine Valley in 1709.  They were married in 1710 in Livingston Manor, Columbia, New York.
During the American Revolution, Daniel Young served as a ranger in the Indian Department before 15 June 1777.  He transferred to Butler's Rangers with its formation in September of 1777. He became a sergeant in Captain William Caldwell's Company before 25 December 1777.  He finished his service in this corps in Captain Peter TenBroeck's Company, being assigned to Oswego at some point during 1783 and serving throughout the war.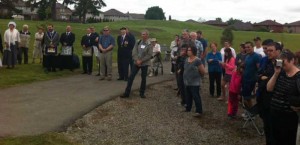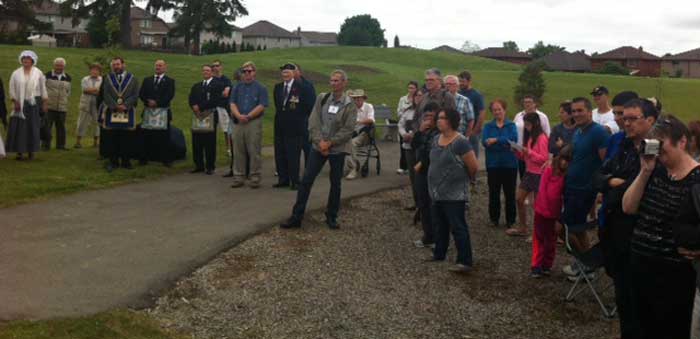 Daniel married Elizabeth Windecker, the daughter of Hendrick Windecker. Their first child, Daniel, was born in Newark in 1782 and their second child, Peter, was born in Waterloo Ferry (present day Fort Erie) in 1784.  The Windeckers operated the ferry service from Waterloo Ferry to Blackrock, near present day Buffalo, on the American side of the Niagara River. Daniel, "by an invitation of the Indians[,] settled on the Grand River, where he made large improvements" according to the land claim records he submitted on 1795. He resided on the Young tract opposite the lower end of Young's Island (now Thompson's Island).  He was issued a commission as a lieutenant in the militia of the Lincoln Regiment on 23 July 1794.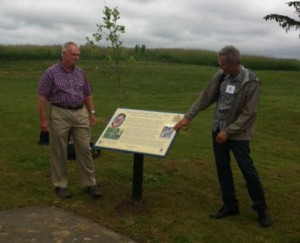 According to Daniel's land claim of 1795, he moved to the township of Barton because he thought "his situation impermanent." He settled on Lot 13 Concession 8.  This land had been granted to his wife because she was a daughter of a United Empire Loyalist.  Today, the area is close to Rymal Road or Highway 6 and Upper Wellington Road.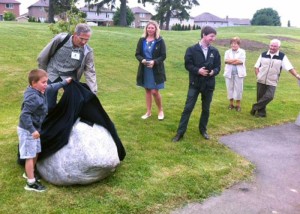 The above information has been taken from David Faux's research on the Young family.  A more detailed version of the Youngs (Jungs) can be found at his website at www.davidfaux.org.
When Britain declared war on 18 June 1812, Daniel — who was about 63 years old — was ready to serve just like he had as an Indian Department Ranger and later as a Butler's Ranger during the American Revolution.  The War of 1812: Upper Canada Nominal Rolls and Paylists records held at the Library and Archives Canada (LAC) show that Daniel served as captain of his 5th Regiment of Lincoln Militia for at least 344 days during the war. William Gray notes in Soldiers of the King: The Upper Canadian Militia 1812-1815 (p. 287) that the pay lists for July, August, and to some extent September of 1812 for the Niagara District do not survive. It is quite possible that Daniel served for more days and other muster rolls have not been located.  He signed the muster rolls for his company indicating that he served during the following time periods for the recorded number of days listed below.  The rolls list soldiers starting and finishing dates so that they could receive their per diem pay. The following list of service dates for Captain Daniel Young has been taken mainly from the LAC microform number 10386:
1812

19 Jun-24 July, 36 days (p. 915)
17 Oct-24 Oct, 8 days (p. 954)
25 Oct-24 Nov, 31 days (p.956)
25 Nov-16 Dec, 22 days (p. 958)

1813

22 Mar-24 May, 64 days
25 Jun-31 Jul, 36 days
17 Sep-24 Oct 24, 38 days (p. 969 all 3 periods)
15 Nov- 24 Nov, 10 days (p. 972)

1814

19 Jun-24 Jul, 36 days (p. 1167)
25 Jul-29 Jul, 5 days (p. 973)
3 Oct-11 Nov, 30 days (p. 1188 & 975)
I have been unable to find Captain Young's orders stating what the men under his command were doing during those time periods.
One reference has been found to place Daniel at two battles. During 1875, living veterans of the War of 1812 could apply for a pension allowance of $50 from the federal government of Canada.  In their pension application, the former soldiers outlined their military service record, which would be examined before the pensions were approved.  One soldier, Private Jacob Hagle, testified at his pension hearing that he served under Capt. Young in the general military and that Young was present at the battles of Fort Erie and Blackrock.
William Gray's Soldiers of the King includes a casualties list of soldiers from the War of 1812. David Faux has used the muster rolls to cross-reference this list with the soldiers under the command of Daniel Young. Through this process, he discovered that Ensign John Bradt was taken prisoner on June 7th or 10th 1813, and this would place Daniel very close to the enemy lines for the same dates as the Battle of Stoney Creek. Information online from the Niagara Historical Museum's Niagara in War and Peace research reports that Brandt was taken prisoner on June 10 1813 at 12 Mile Creek.  Faux also discovered that Private Peter McKee was listed as being wounded on July 25, 1814 at Lundy's Lane.  This means Daniel, as his commander, would have been at the Battle of Lundy's Lane as well.
Daniel and Elizabeth Young had a total of 12 children. Six of their eight sons were old enough to participate in the war. Sergeant Peter served with the 1st Essex Flank Company and the 2nd York Militia. Sergeant Henry served with the 2nd Lincoln Flank Company while Private George has been recorded as serving in the Flank Company of Lincoln. Another two sons, Private Adam and Private Frederick served in the 5th Lincoln Militia. Son Daniel Jr.  was recorded as an ensign in the Lincoln Militia in 1804 but muster rolls for the War of 1812 have not been found to identify his regiment. Two other sons, John D. and James Frederick, were too young for compulsory service during the war.
Daniel was a prominent member of the Barton community.  Soon after his family arrived in  Barton Township,  Daniel joined the Barton Masonic Lodge as a founding member.  He assumed various roles including worshipful master between 1796 and 1807.  He participated in the first library meeting for Barton Township in 1798.
After the war he continued to help with the development of Barton.  He held the position of township assessor in 1816. He was an original member of the Barton Branch of the Hamilton Presbytery in 1833.
Daniel Young died on 9 May 1835 as recorded in the Young family bible.  This appears to be the only document to show the date of his death.  He is thought to be buried in the Young Family Burying Grounds, along the banks of the Grand River near Indiana, Ontario. Other sources say he was probably buried in either the Smith Family Cemetery at Ryckman's Corners or in Old St. Peter's Burying Ground on Mohawk Road.
Researching this article has helped me to understand a common thread between Daniel and his father, Adam. Daniel and his sons supported the British cause against the Americans in the War of 1812, while Adam and his sons fought for the British cause against the rebels during the American Revolution. This has helped me to realize that the strong belief system given to me by my parents may be a thread that has been woven through many generations of the Young family tree.
The Daniel and Elizabeth Young Heritage Homestead Site, located at the end of Tevere Place in Hamilton, honours the contributions that the couple made in the early development of Barton Township. A plaque will be placed on this site during 2015.
"It only seems fitting Daniel Young's Veteran of the War of 1812 graveside marker be displayed by his plaque."
[Graveside Team ed — Cemetery GPS coordinates approximate as no definitive location given.]
Veteran Summary
Daniel Young
Captain, 5th Regiment of Lincoln Militia
Place of Birth
Stone Arabia, New York, Colonial America
Place of Death
Barton Township, ON, CAN
Died on: 09 MAY 1835
Reason: Old Age?
Location of Grave
Possibilities-Young Family (Grand River)-Smith Family (Ryckman's Corners)- Old St. Peter's (Mohawk Road, Barton), Unknown
Indiana / Barton Township, ON, CAN
Latitude: 43.20348N Longitude: -79.893471