Peter Young Biography by Bill Young UE (3rd great grandson of Peter), October 2014
Peter Young was born 1784 in Waterloo Ferry (Fort Erie) and died on 21 October 1846 in Seneca Township, Haldimand County, Ontario.  He was the second child of Daniel Young (1749 Canajoharie, New York, 09 May 1835 Barton twp. Ont.) and Elizabeth (Windecker) Young (1763 Schoharie, New York, 08 Mar 1830 Barton twp. Ont.).
Daniel Young fought with the Butler's Rangers during the American Revolution and became a sergeant in Captain William Caldwell's Company.  He finished his service with this corps in Captain Peter TenBroeck's Company. Adam Young (Daniel's father), Hendrick Windecker (Daniel's father-in-law), John Young, David Young and Henry Young (Daniel's three brothers), as well as Christian Riselay (Peter Young's future father-in-law), were also Butler's Rangers.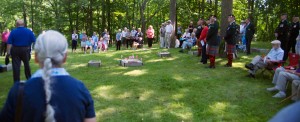 Adam Young and his three sons, Daniel, John and Henry, lived on the Young Tract near Caledonia, which was a Brant lease given to them by another Butler's Ranger, Chief Joseph Brant. Daniel's family only lived on this land a short time before they moved to land in Barton Township that was a Daughter of a United Empire Loyalist land grant given to his wife, Elizabeth (Windecker) Young.
This is where Peter Young lived until he married Hannah Riselay, daughter of Christian and Catharine (Sipes) Riselay, in September 1806.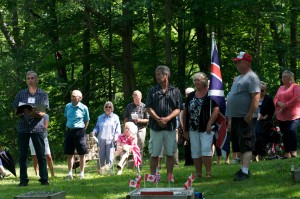 In 1806, Peter was granted land as a Son of a United Empire Loyalist (S.U.E.) at Lot 19 Con 1 SDS in Trafalgar township which he owned from 11 July 1808 to 11 February 1811. Hannah also received her Daughter of a United Empire Loyalist land grant in 1806 at Lot 6 Con 2 NDS in Trafalgar Township, which she owned from 1808 until it was sold in 1810 (land records — Oakville Public Library).
After the American Revolution, Captain William Caldwell establish a settlement near present-day Windsor of former Butler's Rangers who, if needed, could defend their country against the Americans in Detroit. Daniel Young and Caldwell were both very active in the militia in the years leading to the War in 1812. Caldwell continued to attract settlers with strong ties to the Crown until the start of the war.  The connection between Caldwell and Peter's father provides a link for Peter's move from Trafalgar in 1811 to join Captain Caldwell's Company on 2 July 1812 in Essex County.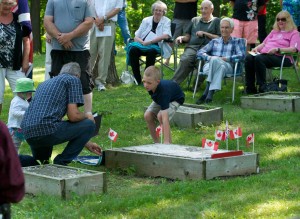 The following muster rolls for Peter Young's War of 1812 service are mainly with the 1st Essex Flank Company that are held at the Library and Archives Canada (LAC) online records — War of 1812: Upper Canada Returns, Nominal Rolls and Paylists (RG9 1B7) microfilm #t-10388. He is listed as a sergeant with Capt. Caldwell's Company on the following rolls:
"Officers and Non Com Officers & Private Flank Company 1st Reg of Essex" (service year 1812) p. 844
2 July-24 July 1812 for 23 days p. 853
25 July-24 Aug 1812 for 31d p. 875
19 Jan-24 Jan 1813 for 6 d- muster roll comment "wounded in Battle of River Raisin 22nd Jan" (microfilm #t-10389 p.64) This is scan #1 attached to this application.
18 Mar-24 June 1813 for 61 d- 2nd York militia Private Peter Young with Captain Samuel Ryckman's Company (microfilm #t-10384 p 173) (The 2nd York mustered men from the Trafalgar twp. area at Burlington Heights where Captain Daniel Young's 5th Lincoln Regiment mustered as well.  Samuel Ryckman was a neighbour to Daniel in Barton Twp. and was a witness on Daniel's will in 1835. Possibly, Peter and his family returned to Barton twp. to be with his extended family as he recovered from his wound.)
Note: The following page references are all for microfilm #t-10388
2 Sept to the 24 Sept 1813 for 23d Sjt. Peter Young with Capt. Caldwell's 1st Essex p. 921
25 March to 24 April 1814 for 31d Sjt. Peter Young with Lieutenant Nicholas Lyttle of Essex Rangers p. 932
25 April- 24 May 1814 for 30d Sjt. Peter Young (same as Essex Rangers) p. 936
25 May-24 June 1814 for 31d Sjt. Peter Young p. 940
25 June-24 July 1814 for 30d Sjt. Peter Young p. 944
25 July-24 Aug 1814 for 31 d Pvt. Peter Young — Peter is with the same commander and company as above-Lieut. N Lyttle's Essex Volunteers p. 948
(p.982 of t-10388 said that the Essex Volunteers and the Essex Rangers names referred to the same unit) No documented explanation has been found for the change in rank. Peter remained a private until the end of the war.
25 Oct- 24 Nov 1814 for 31 d p. 952
25 Nov- 24 Dec 1814 for 30 d p. 966
25 Dec- 21 Jan 1815 for 31d p. 970
25 Jan- 24 Feb 1815 for 31d p. 974
25 Feb- 24 Mar 1815 for 28 d p. 978
LAC War of 1812: Board of Claims for Losses, 1813-1848, RG 19 E5A online information for Claim #1128 states that Peter Young of Colchester, in Essex, had his dwelling and stable burnt by Capt. Bell and a party of United States light troops (Volume 3751 file 3 Microfilm #t-1134 p 186-7). The claim also states they stole his sword, belt, fusil (gun), sword and his horse. One could assume that someone was living at this location during the burning and theft since a horse which would need tending, was stolen as well.
Peter uses his signature on this claim made in September 1815. This signature matches Peter Young's signature on his 1806 S.U.E. land grant request (Upper Canada Land Petitions 1763-1865 Y Bundle 8, 1806-1808 (RG 1, L3 Vol 549). These signatures are scan #2 attached to this application.
The LAC Department of Finance Upper Canada War of 1812 Losses Claim (RG 19 E5A Vol 3728 File 5 — Microfilm #t-1122 p 558-559) for Peter Young states that the claimant was serving with the militia at Burlington when the burning and theft occurred in May of 1814.  General Proctor's troops had left the Western District when the Americans occupied the Western District from fall 1813 until the end of the war. Proctor's troops mustered from the Burlington heights area until the occupying American forces left at the end of the war.
The Certificates and Affidavits Sp-Y (RG 19 E5A Vol 3767 File 3 p 413-414) given in May of 1824 by Ebenezer Reynolds states that he knows Peter Young, now of Malden Twp. in Essex, who served in the late war. Malden Township Assessment records at Archives of Ontario (MS 390 Reel 1) list Peter Young living in Malden from 1822 to 1830.
Peter Young of the Flank Company 1st Regiment Essex Militia is listed in W. Lauber's An Index of Land Certificates of Upper Canada Militiamen Who Served in the War of 1812-1814 on page 106. I have attached scan #3, Peter's Certificate B verifying this service to this application (LAC RG9,1B4 Vol 25, File 94 p289).
In 1830, Peter Young is found to be living on leased Indian Lands at Lot 24 River Range, Seneca twp. near Caledonia (PAC, RG10, Vol. 105, Claimants to Grand River Lands Belonging to the Six nations, p. 28, 31) which was later purchased.
The online LAC 1842 census for Gore District, Sub District Brantford Indian Reservation (image No 004569585 00048) shows Peter Young as a farmer on the Return of the Enumeration of Inhabitants of the Indian reservation Grand River.
Reverend Bold Culmore Hill's "Burials for Seneca Cemetery" (available at the Haldimand County Archives) identifies Peter's death as 21 October 1846.  The transcription of the Caledonia Old Methodist Cemetery #2185 (second edition issued in June 2010 by the Ontario Genealogical Society) identified a broken head stone's inscription as
"Farwell Peter Young died Oct. 20 1846 — years & 6 months Hannah wife of the above died Dec 13 1873 — years 11 months & 17 day Peter son of the above died Dec. 28 1875 ae 48 yr  & 9 months".
Veteran Summary
Peter Young
Private, First Essex Flank Company
Place of Birth
Waterloo Ferry (present day Fort Erie, ON, CAN
Place of Death
Seneca Township, Haldimand County, ON, CAN
Died on: 21 OCT 1846
Reason: Old Age?
Location of Grave
Caledonia Old Methodist Cemetery (OGS#2185), Winniet Street
Caledonia, ON, CAN
Latitude: 43.0680167N Longitude: -79.9366666