200 years later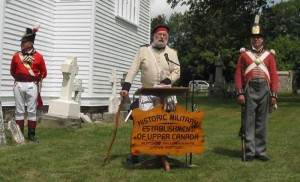 We commemorate the signing of the Treaty of Ghent on Christmas Eve 1814 to end the War of 1812, which was formally ratified by the United States on February 18, 1815 to cease hostilities. The Treaty of Ghent was signed December 24 1814 between 4 pm and 6 pm by British and American Diplomats ending the War of 1812 and defining the borders of Canada.
200 years later, with the close of the War of 1812 Bicentennial upon us, it's important that we make sure that you know that this War of 1812 Graveside Recognition Project does not cease with the end of the Bicentennial commemoration. This project will continue as long as there are like minded Canadians who feel that these War of 1812 veterans need to be recognized for their service.
The strength and courage, the resolve and sacrifice of these veterans represents a rich part of our heritage — too important to be forgotten — too precious to be ignored.
As the Graveside Team, we are committed to continuing to accept your biographies and will continue to ship the plaques to mark the graves of these founders of our nation.
Please take the time to enjoy the fruits of your labours as pictured below with associated links to read about the Veterans fascinating histories and accept our thanks for your continuing support of this project.
— Regards, the Graveside Team