Research compiled by the Heritage Arts Legacy of Fort Erie
Peter Haun was born in 1778, likely in Pennsylvania, Thirteen Colonies, the youngest son of Mathias Haun and his wife, Ann.   Mathias Haun came to the Province in 1787 with his wife and ten children.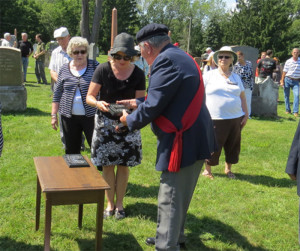 In a 1797 petition, he listed his family as wife Ann and children:
Mathias
Jacob
William
George
Peter
Ann
Elizabeth
Margaret
Esther
Mathias was granted land in Bertie Twp., Lots 20 & 32, Conc 1 LE and in Humberstone Twp., Lot 17, Conc 1, Lot 6, Conc 3 and Lot 22, Conc 4.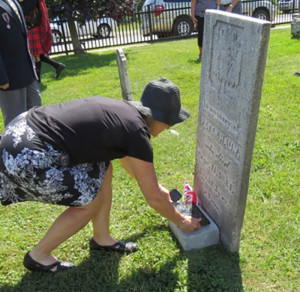 The family attended St. Paul's Anglican Church in Fort Erie.
Mathias died in 1808 and in his Will left Peter Lot 20, Conc 1 Bertie Twp. along with his wagon, windmill, plough, harrows, chain, tackling, gun augurs, chisels, cowbells, grubbing hoe, beatle and wedges.  In turn, Peter was to pay $200 within three years to be divided amongst his siblings equally.
Peter married c1807 a lady named Sarah (born c1785) and they had eight children.  The family was captured on the1828 Census for Bertie Twp. as consisting of four boys under 16, three girls under 16, one boy over 16.  Family genealogists have reconstructed the family as:
Sarah (m Jacob Miller)
James (m Catharine Sherk/Charity Woolever)
Mathias (m Eliza C. Miller)
Alexander (m Regina Sophia Riselay)
Peter Jr. (d 1844, age 24)
Gorden
Emelia (m George Graham)
Mary Augusta (m Henry Edward Miller)
During the War of 1812-1814 Peter served as a Private in the 3rd Regiment Lincoln Militia commanded by Captain James Cummings.  His military service is documented within the National Archives digitized War of 1812 Upper Canada Returns, Nominal Rolls and Paylists  RG 91B7 Mikan 183676, Reel T-10386.
After the war many Bertie Township residents filed claims for compensation for property damages caused by the enemy. Peter Haun's claim for damages suffered at the hands of the enemy is listed at Archives Ontario, Claim #362, Schedule of Claims, Class 2, Township of Bertie, District Niagara.  He claimed a horse, cattle, sheep, hogs and grain taken by the enemy and valued them at 148£, 8 shillings, 9 pence. Two witnesses certified his losses. Payment recommended was 110£.
Peter died 11 Sept 1841 and was buried in the Ridgeway Old Cemetery. He died testate and his last will was registered against his property on October 19, 1841.   His son Peter died March 23, 1844 and was laid to rest with his father. Sarah died on October 19, 1860 and was buried alongside her husband and son in the same plot.
Veteran Summary
Peter Haun
Private, 3rd Regiment Lincoln Militia
Place of Birth
Thirteen Colonies, PA, USA
Place of Death
Bertie Township, Lincoln County, ON, CAN
Died on: 11 SEP 1841
Reason: Unknown
Location of Grave
Ridgeway Old Cemetery, 125 South Mill St.
Fort Erie (Ridgeway), ON, CAN
Latitude: 42.877675N Longitude: -79.053585